7 Mistakes I Made My First Year at an MFA Program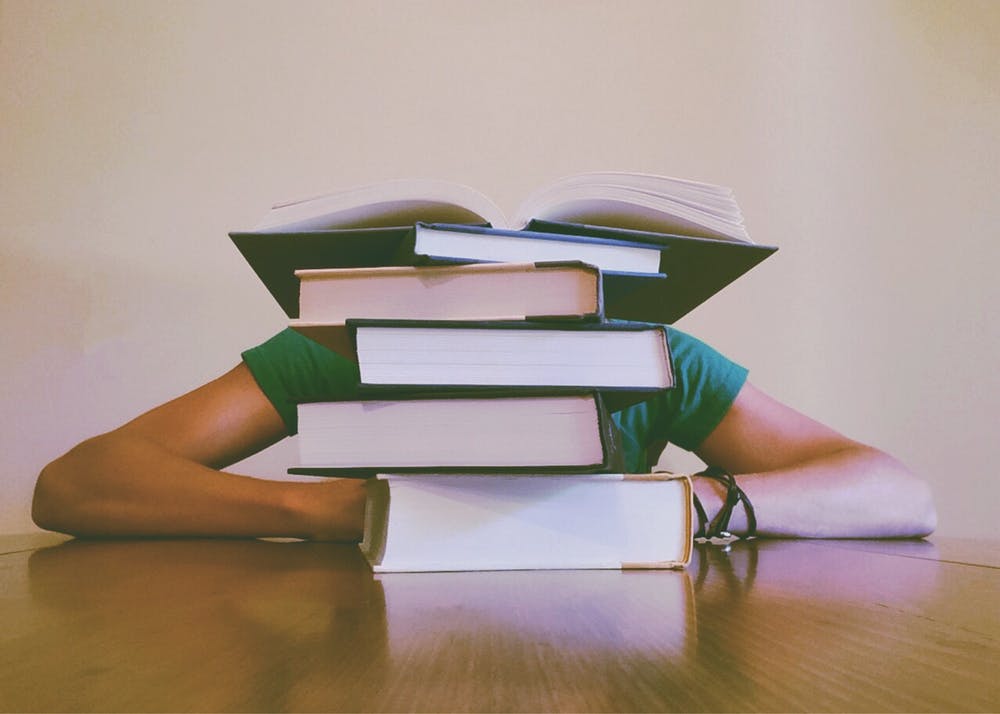 This past summer I was asked to be a mentor for incoming MFA students at Sarah Lawrence College. How cute, I thought, they think I know something about anything! As a second-year MFA student who still forgets which day is trash day and has designated an hour every other Tuesday to "cry about my thesis," I felt immensely unqualified to give any advice.
However, over several emails and phone calls with "the baby writers" (as I endearingly called them), it became clear that I actually did know something. I knew a lot in their eyes. I knew how to navigate a program where the inner-workings had baffled me just a year ago.
I loved answering their questions and assuaging their fears. The question I most enjoyed answering? What would you do differently if you could do it all again?
As a writer, one must be well-acquainted with failure, but that doesn't mean your first year in an MFA program can't be a success. Here's how I failed so that you can succeed:
Mistake #1: Thinking I Knew What Kind of Writer I Was
Do you think you know exactly what your memoir or novel will look like? Are you using this program just so you have time to work on it? You're cheating yourself! Put your white whale in a drawer. You're not allowed to think about it until maybe your second year. You might not even want to ever look at it again. Your new work might be too fascinating.
Like many MFA candidates, I came to Sarah Lawrence thinking I knew exactly what my thesis would be. I had a title picked out for what would almost certainly be a best-seller and had even written a chapter or two. But a year later, the writer who wrote those chapters didn't exist anymore.
My first year at Sarah Lawrence changed my writing irrevocably. At the start of my workshop with Jessica Hendry Nelson, I wrote traditional narrative personal essays, but by the end, I was churning out pages of abstract lyric essays that bordered on prose poems. Even now my writing continues to morph from week to week. My writing changes with each book I read and each fiery class discussion.
An MFA should break you down as a writer and you should let it. You shouldn't have any preconceptions about your work entering the program. Be a blank canvas. Take everything in. Maybe you're not a fiction writer, you're a poet. Maybe you're not a poet, you're an essayist. Maybe there's humor in your work you never saw before. You'll never know though if you aren't open to experimenting.
Mistake #2: Thinking I Knew What Kind of Writers I'd Be Studying With
I can't speak to every MFA program, but I was pleasantly surprised by how varied my cohort at Sarah Lawrence was. When I entered the program, I thought I was going to spend two years sitting in a classroom with a bunch of moody 24-year-olds in turtlenecks and thick-rimmed spectacles who had spent their entire lives dissecting James Joyce and drinking black coffee.
Instead, I found a group of peers both right out of college, a few years out and decades out. I found people who already had master degrees. I found beach bums, single moms and financial analysts. They are from Salt Lake City, Maine, and Europe. There are divorcees and grandfathers. They are 22-year-olds who live with their parents. There are a surprising amount of lawyers.
Almost all of my mentees worried they would be the odd one out in this program and maybe you are worried, too. Embrace your oddness! Your oddness is what's going to make your cohort so vibrant and, if nothing else, you all share one thing in common: a passion for words.
Mistake #3: Underestimating the Workload
Realizing how much work the program required was a bit of a shock for me, but every hour has been absolutely worth it. Like one of my teachers said, "You want to call yourself a writer? Prove it."
I have two classes a week, which are two hours each. I'm also required to attend five colloquium events each semester, each an hour long. Every other week, I have a half-hour conference with my workshop teacher. So, that's six hours a week at worst. Doesn't sound too bad, right?
But then I look at the 100 plus pages of assigned reading I have each week. That's not too much reading, but I don't want to speed read these works. Then I look at the stack of unassigned readings, which grows as professors and students suggest relevant novels, essays, and authors. Then I look at the writing I ought to be doing: the free writing, the essays that need revision and the ten-page essay I have to submit to my workshop (which is almost always a struggle).
Oh, and then there's my part-time job I need to pay rent, the literary journal LUMINA that I'm so excited to be a part of, the commute into and out of the city, the magazines I want to submit to, the readings I was asked to participate in and the festivals where so-and-so is going to give a talk. I think there's also this thing called sleep?
Writing and reading meaningfully takes time and practice. You need to give yourself that time and that space. You need to give your all to each assignment if you want to get anything significant out of your classes. You will have to prove your dedication to writing in an MFA program, and it's going to take hard work, but you can do it! Just come prepared: eat breakfast, load up on coffee and allow yourself to say no to some things.
Mistake #4: Not Getting Involved Enough
But don't say no to everything!
The realization that the workload is nothing to laugh at might discourage you from getting involved with extracurricular activities. It discouraged me. During my first term, I did nothing but take my classes, do my homework and work my part-time job. Was it less stressful? Sure. But I regret it. I was getting a lot out of my classes, but I could have been getting experience working with a journal, running a poetry festival or tutoring undergrads.
Audit an undergraduate class if that's an option. Volunteer to teach poetry at a community outreach program if your school is posting positions. Become a reader for your program's literary journal, if not an editor.
Get. Involved. Because here's the thing: you're here. And you're only here for a brief moment of your writing life. You should make the most of each class, each assignment and each opportunity that comes your way. Don't take this time for granted. By entering an MFA program, you're marrying the work. It's in your interest to show the work the full breadth of your commitment.
Mistake #5: Not Geeking out With All of the School Supplies.
Buy a printer. Buy a printer. Buy a printer. Buy a printer. Wait, one more thing: BUY A PRINTER.
Yes, you'll be able to use the one in the library, but they're usually hit or miss or you can't make it in time to print before class because your bus/train/beat-up Honda civic added a half-hour to your commute. My printer is my best friend. I like doing edits by hand because I'm able to find shapes and catch mistakes that I would have glossed over if I were looking at a screen.
But let's say you don't spoil yourself with a printer. That's fine. If you don't need it, you don't need it. But maybe spoil yourself with a nice notebook. Get a notebook for each class. Get a notebook just for notes about your reading. Get a notebook just for free writing. And get a nice folder because, after a workshop or two, you'll be walking around campus with half a novel on you at all times.
You owe it to yourself and your work. Save up $40 and invest in your craft. You're a writer. Being a student is your job. Geek out. Get organized. Make your intellectual life easier. Besides, you can't fail if you have a color-coordinated calendar, right? Right?
Mistake #6: Being Shy at Events
Writing is lonely. Writing requires solitude, long hours spent with nothing but a pen and a notebook, long hours of talking to people in your head. There's a reason writers seem a little detached from society.
But writing doesn't have to be that lonely. One of the major benefits of enrolling in an MFA program is being gifted a vibrant community of writers (see Mistake #2). My first semester, I did very little to reach out to that community (see Mistake #4). If I did go to an event, I'd sit by myself, take notes and then leave. That's one way to be a part of an MFA program, but it's far from the best.
Writers need writer friends. Get out there and mingle! You need the support and you probably also need the sunlight. If you're shy, don't worry: writers tend not to bite.
Mistake #7: Not Applying Sooner!
Okay, so technically this is a mistake you can't make during your first year, but it's definitely a mistake I made that can be avoided.
I knew since graduating college that my education wasn't over; however, I had no idea what the next step looked like. In the next few years, I studied theatre, music, philosophy and everything in between. Nothing stuck until I found my voice in Chicago's storytelling and live-lit circuits. I should have applied to an MFA then, but I was afraid. I was afraid of rejection. I was afraid of uprooting my life. I was afraid of committing to my craft. It took me three more years to summon the courage to apply to an MFA and while I'm happy for the life experiences I had in the meantime, I wish I hadn't been afraid once I knew what I wanted.
There might be a right time to apply to an MFA program, but that "right time" might never come. If that impulse exists, trust it.
As long as you are capable of giving an MFA program your all, then you will benefit.
***
Amanda Claire Buckley is a writer who was once a waitress who was once a philosophy student who was once a musical director for a sketch comedy troupe. Somewhere online you can find a recording of an opera she wrote based on Rilke's poetry as well as a short play riffing on Chekhov's The Seagull which has been anthologized by Playscripts, Inc. She is currently a contributing editor at Pigeon Pages and an MFA candidate at Sarah Lawrence College. She has been published in Storyclub Magazine, The Same, and Pigeon Pages.